Here are some things to know about a cash advance and tips before you withdraw.
---
It's the first Monday of the month…payday isn't until Friday…you're already into your overdraft, and…your three kids forgot to tell you that school pictures are on Wednesday which they need $20 each in cash. Cash that you don't have – what do you do? You start to weigh the options:
Call the grandparents and ask for picture day money.
Stop at a local Cash Store or Moneymart (but you already know the fees are outrageous and don't want to get caught in the vicious cycle of payday loans).
Borrow money from another parent at the school.
Swing by the ATM and get a cash advance from your credit card.
Option #4 is your decision, and it's what we're here to talk about – The Cash Advance!
So what's the big deal? You'll be able to pay off the cash advance at the end of the month when you pay your credit card bill. True, but what will you be paying?
A cash advance works a little different than just paying with your credit card. The biggest difference being that interest is calculated the moment the money comes out of ATM until it's paid back. You pay a fee to get the money and continue to pay interest until the money is returned. So, by the end of the month your $60.00 may end up costing closer to $70.00 when you pay it back!
Yep, that's how I felt, when I learned about cash advance interest.
In contrast…when you tap (or swipe) your card to make a purchase, and pay it back "in-full" by the end of the month, you only pay the amount you spent (no interest is charged) – we call that a grace period. A grace period is the period of time the credit card company gives you to pay your new charges without charging interest on the balance. This period typically runs from the end of a billing cycle to the next payment due date – for most credit cards it's about 21 days. For cash advances though, there is no grace period.
So that is that short and sweet about cash advances, but not the end of our blog. Let's take this one step further and give you some practical advice on how to avoid needing a cash advance.
Practical advice #1 – Create a budget
The best thing to do is to create a budget. The purpose of a budget is to help us manage the money we make, the money we spend, and the money we save. My budget includes things like rent, gas, groceries, entertainment, music gear and my tall, 1/2 sweet, non-fat, extra espresso shot, vanilla latte from Starbucks. Because let's be honest with each other, there should always be a budget line for Starbucks coffee – maybe not all the time, but every so often to treat ourselves for a job well done.
Practical advice #2 – Add cash to the budget
Once you have your budget all figured out, think about adding cash or a misc. expense line into your budget. I run on a bi-weekly budget because I get paid bi-weekly and part of my budget is adding $40.00 – $60.00 of cash into my wallet. The cash isn't there for a specific purpose, but for moments that I need cash – those miscellaneous expenses I didn't plan for, such as picture day fees. If I still have the cash in my wallet the next time I get paid, I celebrate because I'm now saving money that I would have normally taken out as cash, which leads me to my final piece of advice…
Practical advice #3 – Save when you've over budgeted
What do I mean by that? Sometimes we set out a budget and at the end of the month, we didn't spend all the money we budgeted and have money left over. I don't know about you, but my first reaction is usually…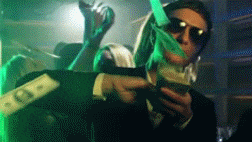 Though I'm tempted to spend it, what I've learned to do instead is put that money into my savings account, TFSA, or talk with my financial advisor to get advice on what I could do; especially if it happens often.
Hopefully, you now have a better understanding of cash advances, along with tips to help you prepare for those unexpected expenses. If you have any questions about a cash advance or budgeting, please ask in the comments section below. We'd be happy to chat with you!
Finally – here are a few additional action items that can help you improve your overall financial well-being:
If you've never created a budget I would recommend you take 10 minutes and try our newly updated BUDGET CALCULATOR! It's free to use!
If you want some free financial advice fill out the form on the bottom of our site!
Leave a comment and ask more questions! Conexus #MONEYTALK blog is meant to be a 2-way-conversation!
Read Laura's amazing blog on "10 Ways to Control Your Finances" 
If you really want to take your financial journey to the next level why not Become A Member of Conexus, where your financial well-being drives everything we do!
593
8
0
cookie-check
Cash advances | What to know and advice
When I'm not trying to kick start my musical career, I spend time coaching basketball, helping with my local youth group, and dabble in entrepreneurship. I grew up in the city of Moose Jaw, but love living in beautiful Lumsden, SK. As a valley dweller, I have the best of both worlds, 30 minutes from the lake, and 30 minutes from Starbucks…(Full Bio in "Meet The Authors")
(To read other blogs by me CLICK my name.)
https://www.conexusmoneytalk.ca/wp-content/uploads/2019/04/Untitled-design-73.png
982
2200
Francis D.
https://www.conexusmoneytalk.ca/wp-content/uploads/2019/03/Conexus-MONEYTALK_logo_2019.png
Francis D.
2019-04-10 08:00:33
2019-04-17 16:44:32
Cash advances | What to know and advice